Alison Vaughn Hosts Virtual Women Entrepreneurs Conference, register at www.mafedetroit.org
CLICK HERE TO READ THE PRESS RELEASE ON WRDE.COM
Michigan Association for Female Entrepreneurs Names Alison Vaughn, Founder of Jackets for Jobs, the 2021 Female Entrepreneur of the Year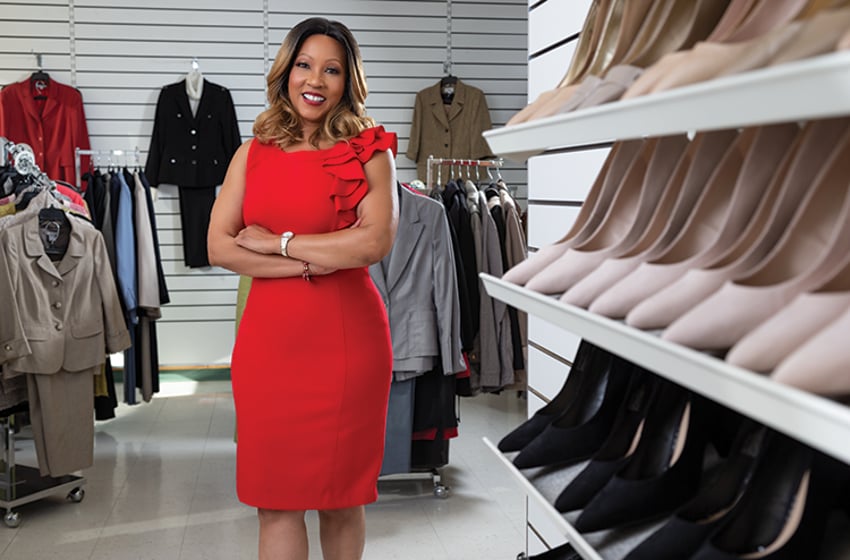 Multi-award-winning entrepreneur Alison Vaughn is named the 2021 Female Entrepreneur of the Year in recognition of her exemplary service and contribution to the Detroit community
DETROIT, MI, October 05, 2021 /24-7PressRelease/ — Michigan Association for Female Entrepreneurs (MAFE) is proud to announce Alison Vaughn, Founder of Jackets for Jobs, Inc., as the recipient of the 2021 Female Entrepreneur of the Year Award.
This prestigious award recognizes extraordinary female entrepreneurs from across Michigan who has made an incredible impact and are transforming communities through job creation and economic revitalization.
Jackets for Jobs is an award-winning nonprofit organization that provides employment etiquette, career skills training, and professional clothing to low-income individuals. Since opening its doors in 2000, Jackets for Jobs has assisted more than 30,000 individuals in their pursuit of employment.
Honored as one of the Notable Women in Nonprofits, Vaughn has taken her nonprofit organization to great heights. In 2007, Jackets for Jobs caught the attention of retail giant T.J.Maxx with whom the organization has since partnered. In 2021, Jackets for Jobs received the high honor of being named one of the "Best and Brightest Companies to Work For" in the nation.
Vaughn is the author of the award-winning book, Ms. Goal Digger: Success is Sexy, a tell-all guide for today's businesswoman who wants to get what she wants for herself, by herself. She is a highly sought-after public speaker both nationally and internationally, and has shared her insights on empowerment, entrepreneurship, and workforce development with audiences in the United States, UAE, and Thailand.
MAFE will present Vaughn with the 2021 Female Entrepreneur of the Year Award during the 2021 Women Entrepreneurs Conference on Saturday, November 13, 2021. The conference will take place virtually in conjunction with Global Entrepreneurship Week.
Sponsored by Driven, Inc., the 2021 Women Entrepreneurs Conference brings together Michigan's most influential business experts and entrepreneurs to educate, inspire and celebrate women in business.
"We are honored to recognize and celebrate women entrepreneurs who are making an impact on Michigan's economy through their passion and determination," said Tonya McNeal-Weary, Founder and Executive Director of MAFE. "Given the ongoing impact of COVID-19, especially on women-owned businesses, we believe it is more important than ever to salute their courage and hard work as we strive for greater growth in a post-pandemic economy," McNeal-Weary added.
For more information about the Female Entrepreneur of the Year Award and 2021 Women Entrepreneurs Conference, visit www.mafedetroit.org.
About MAFE
Founded in 2003, Michigan Association for Female Entrepreneurs (MAFE) is an award-winning nonprofit organization committed to supporting and promoting the economic growth and advancement of women entrepreneurs in Michigan. MAFE allows women entrepreneurs the opportunity to expand their influence and increase their visibility by providing a forum where businesswomen can unite, network, and leverage best practices within an organization of their peers.
About Global Entrepreneurship Week
Led by the Global Entrepreneurship Network, Global Entrepreneurship Week is a global campaign to celebrate and empower entrepreneurs in every country and community around the world – especially those individuals who face structural barriers to starting and scaling a business. Each November, national campaigns in 180+ countries are driven by local event organizers who plan activities, competitions, and events that inspire entrepreneurs to act and provide them with the knowledge, experience, and connections they need to succeed.
Information contained on this page is provided by an independent third-party content provider. Frankly and this Site make no warranties or representations in connection therewith. If you are affiliated with this page and have questions or removal requests please contact pressreleases@franklymedia.com
For the original version on 24-7 Press Release Newswire visit: